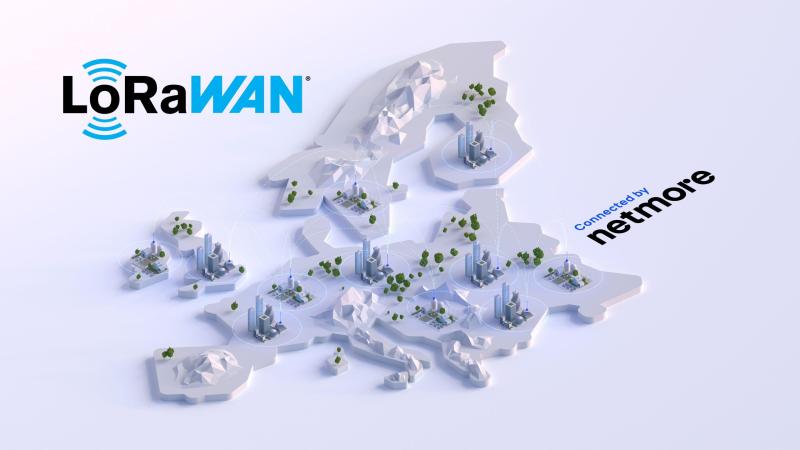 Netmore Group and ECN Expands LoRaWAN Network to Portugal
Netmore's network company European Connectivity Networks (ECN), co-owned with the infrastructure company Polar Structure, has announced a strategic joint venture with the founders of Lorin, a leading local LoRaWAN operator, to penetrate the Portuguese LoRaWAN market. This strategic move strengthens Netmore Group's position as a major player in the European IoT connectivity landscape, offering reliable and cost-effective solutions for utilities, energy monitoring, and tracking applications.
Netmore Group will Drive IoT Solutions and Digital Transformation in Portugal's Utility Sector.
Through strategic collaborations with important players in the market, Netmore will expedite the deployment of innovative IoT solutions across Portugal, addressing the low digitalization rates of water and gas utilities in the country, which currently stand at less than 15%. This presents a significant opportunity for Netmore Group to contribute to the digital transformation of the utility sector in Portugal.
Netmore Group's expansion into Portugal aligns with the ongoing support from the European Union and the Portuguese government for the smart water meter rollout meaning it is well-positioned to play a vital role in the digitalization of water infrastructure in the country.
Additionally, 1.5 million gas meters are expected to be digitalized in the coming years, presenting further opportunities for Netmore Group's IoT connectivity solutions.
Ove Anebygd, CEO of Netmore Group, expressed his excitement about entering the Portuguese market, stating, "We are thrilled to bring our LoRaWAN expertise to Portugal through this new joint venture. This strategic move enables us to extend our network coverage and offer innovative IoT connectivity solutions to customers across the country. By combining our strengths with our new local partners, and leveraging their established relationships and infrastructure, we can drive the digital transformation in the utility sector and provide reliable IoT connectivity for smart metering, energy monitoring, and tracking applications."
Talis Talor, partner in the newly established joint-venture and managing director for Netmore Portugal, commented on the joint-venture, saying, "Joining forces with Netmore Group marks an exciting chapter for us. Our extensive network and strategic relations with companies and organizations that facilitate effective LoRaWAN gateway placement will greatly support Netmore Group's expansion in Portugal. Together, we can deliver a cost-efficient network that addresses the low digitalization rates of water and gas utilities, ultimately enabling a more connected and efficient future."
Netmore Group Strengthens European Leadership
Netmore Group's entry into Portugal solidifies its position as a leading LoRaWAN operator in Europe. With an expanded network footprint and enhanced capabilities, the company is poised to drive the digitalization of utilities and contribute to the smart water meter rollout and the digitalization of gas meters in Portugal. This strategic move reinforces Netmore Group's commitment to delivering reliable, secure, and costeffective IoT connectivity solutions to support the growing demand for smart applications in the region. Netmore Group now offers LoRaWAN in Sweden, UK, Spain, France, Sweden, Denmark, Netherlands, Ireland, Poland, Austria and Portugal. In addition, there are roaming agreements that provide coverage in Finland and Switzerland.
Contact details:
Ove Anebygd / CEO / Netmore Group
Phone: +46 705 195 798
E-mail: ove.anebygd@netmoregroup.com
Linkedin: http://www.linkedin.com/in/ove-anebygd-3244017/
Netmore Group is an IoT network operator, building the leading Pan-European network. We offer a reliable solution and leading connectivity expertise for efficient measuring, monitoring and optimisation of resource use. With 10 years in the industry we have a solid track record, operating borderless on the European market. Netmore group's main owner is the Nordic infrastructure investor Polar Structure. Netmore Group was founded in 2010 in Sweden and since 2017 has been listed on the Nasdaq First North Growth Market. Redeye AB is the company's certified adviser.
All news